Harvard Undergraduate Veritas Forum
presents
Life in the Face of Death - How should we live in the light of human mortality?
Thursday, February 23, 2023
Room 305, Emerson Hall, Harvard Yard

Started at Harvard in 1992,
Veritas Forums
are campus-wide events that ask life's biggest questions and put the Christian faith in dialogue with other worldviews. This spring, the Harvard Undergraduate Veritas Forum team presents: Life in the Face of Death - How should we live in light of human mortality?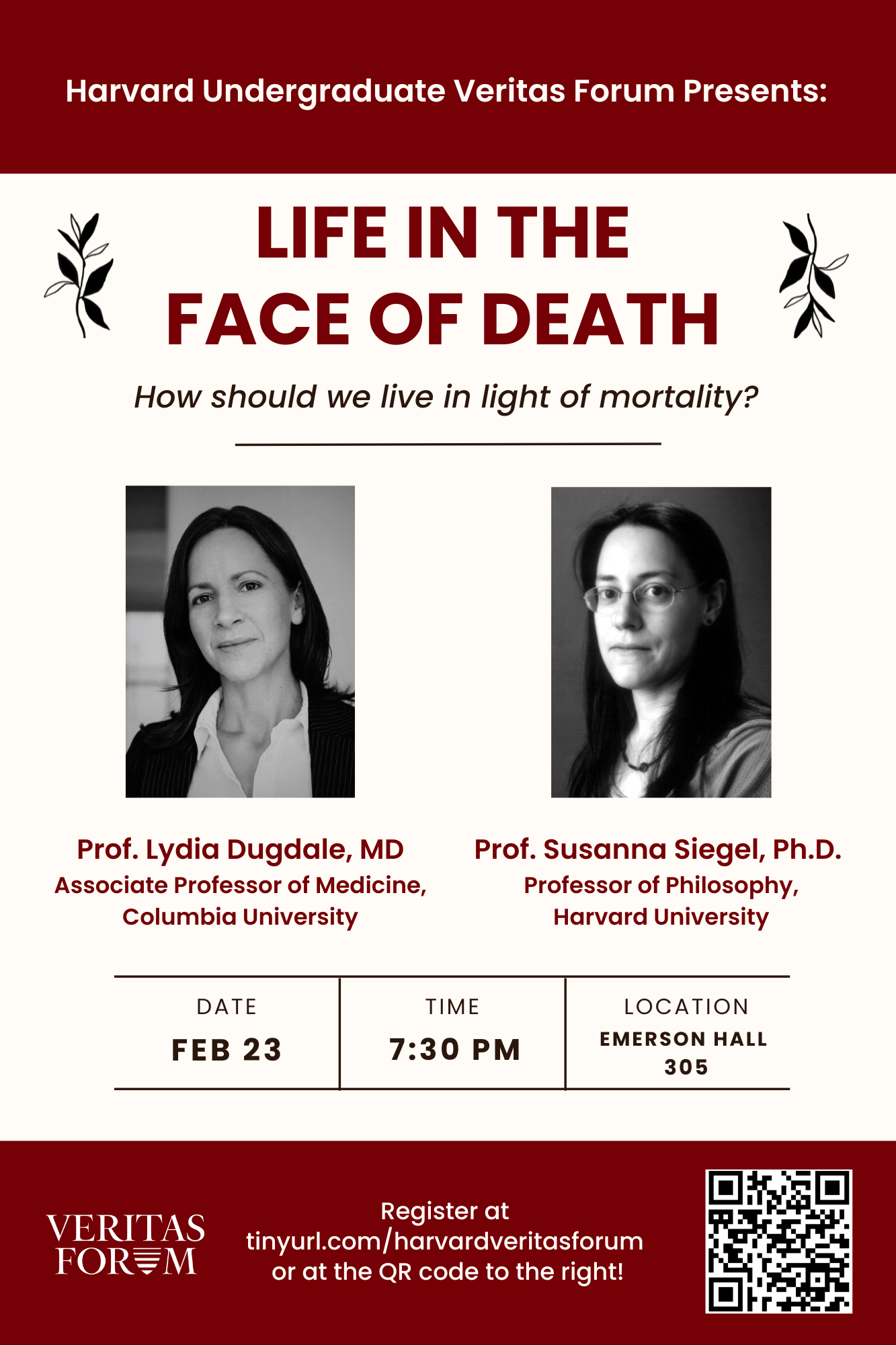 Death can often seem remote to us, particularly but not exclusively for those of us who are young college students. Should we leave it that way? Or should we be grappling with the reality of our death -- and, if so, why?
How does our finitude affect the meaning we give to our life? How does this meaning, in light of finitude, inform what we value and what we choose to do? Beyond our own lives, it seems like every day we turn on the news and see headlines about human tragedy. Sometimes, this tragedy hits close to home. How should we think about and process death around us – in the news, in the world, in our social circles? Does this differ from the way we should grapple with our own death?
These are some of the questions that we hope to explore with two fantastic speakers: Professors Lydia Dugdale (Columbia University Vage
los College of Physicians and Surgeons) and Susanna Siegel (Harvard University Department of Philosophy). Professors Dugdale and Siegel bring multidisciplinary perspectives to the table, so we expect an engaging discussion that crosses science, philosophy, and worldviews.
Everyone in the Harvard community—and beyond!—is invited to attend. Admission is free. There will be a chance to engage with our speakers during the Q&A portion of the event.